Some common occupational therapy concerns we treat at HSDC include but are not limited to: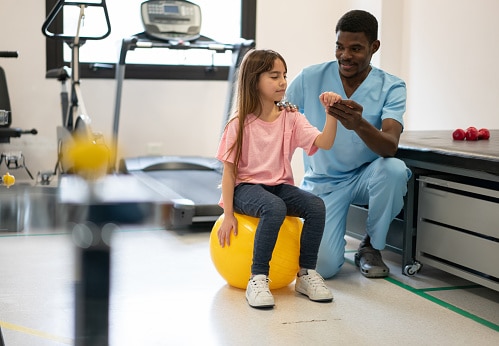 Behavioral Regulation refers to your ability to resist using unhealthy behaviors to regulate emotion. Being more in tune with your feelings can make it easier to both understand what triggers them and find helpful ways to cope.  
Sensory Processing – or Integration as it is also known – is the effective registration (and accurate interpretation) of sensory input in the environment (including one's body). It is the way the brain receives, organizes, and responds to sensory input in order to behave in a meaningful and consistent manner.
Fine Motor Control is the coordination of muscles, bones, and nerves to produce small, exact movements. Fine motor skills are in everyday activities, like handwriting and clothing fasteners.
Body Coordination is the ability to execute smooth, accurate, controlled motor responses (optimal interactions of muscle function). Coordination is the ability to select the right muscle at the right time with proper intensity to achieve proper action.
Self-Care from an occupational therapy perspective, self-care includes activities such as personal care (bathing, toileting, dressing, feeding), functional mobility, community management (grocery shopping, driving, taking public transportation, managing finances). Self-care skills are necessary from an early age in order to complete daily tasks and establish a sense of independence.
Call Hearing Speech + Deaf Center at
(513) 221-0527
for more information or to schedule an appointment.